Air conditioning solutions in open work environments.
---
At Bioaire we know how to generate comfortable work environments that promote maximum performance of workers in adverse weather conditions, and thus increase productivity. Thanks to BioAire's evaporative air conditioners during summer months, we can reduce shop's temperature, improve air quality and reduce the energy bill. During cold winter days we can heat the workshop with Space-Ray radiant tube radiators, significantly reducing the energy bill, and above all, allowing air recirculation and providing an optimal comfort temperature that allows working conditions.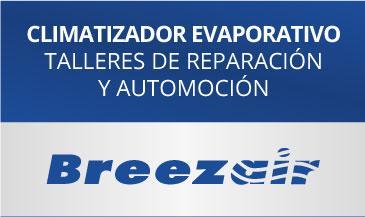 Open doors: Allows you to acclimatize space even with the doors open, this is ideal for any type of workshop or car dealership.

Constant air flow: Evaporative air conditioners generate an air flow that guarantees constant renewal of the workshop environment.

Healthy, fresh and clean air: Eliminates internal air recirculation, recycling the environment with outside air and creating a more pleasant atmosphere.

Optimal level of humidity in the air: Thanks to the water evaporation process, an optimal level of relative humidity is maintained in the environment.
Lower energy consumption: Reduces energy consumption by up to 80% compared to traditional refrigeration systems.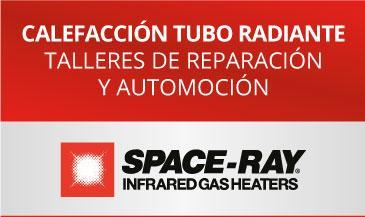 Air conditioning by zones: Allows to acclimatize by zones, making it much more effective to reach comfort temperatures in very large environments with air currents.


Feeling of comfort: It directly heats the objects and not the air, this offers a feeling of comfort very close to that produced by sun's rays.


Less heat loss: You can leave doors and windows open without suffering a loss of comfort in heated areas, so that constant air renewal is promoted during the winter.


Easy & quick maintenance: It's only necessary a pressurized water jet periodically.


Heats immediately: Space-Ray gas radiant tube heaters don't require heating the air in the entire room to offer a comfortable temperature, so it won't be necessary to turn on the heat before starting to work as it heats immediately.


Lower energy consumption: Reduces energy consumption by up to 80% compared to traditional forced air heating systems.

Internal combustion: Space-Ray radiant tube radiators combust gas internally and expel combustion residues outside, helping to keep the workplace healthy and clean.

Minimum installation cost: The installation of efficient gas radiant tube heating systems doesn't require a complicated installation, it just requires a power outlet and natural gas.

Some of our customers
[logo-carousel id=clientes]