Air quality and raw material conservation
---
At Bioaire we can help you conserve raw materials and improve working conditions to increase production. Breezair evaporative air conditioners allow you to maintain a healthy and renewed environment during the summer, and we can create a cleaner and more productive environment by installing Space-Ray radiant tube radiators during the cold winter months. In both cases, the relative humidity of the environment guarantees the correct conservation of the stock.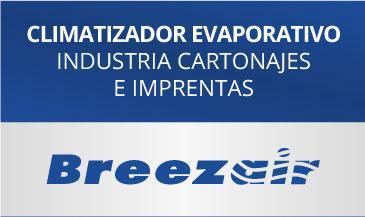 Optimum humidity level of the cardboard or paper: Thanks to the water evaporation process, an optimal level of relative humidity is maintained in the environment, preventing the raw materials from drying out excessively.


Clean and healthy environment: The adiabatic process generates the warehouse's overpressure atmosphere, which tends to expel suspended particles and odors.

Constant air renewal: BioAire evaporative air conditioners are ideal for industrial warehouses because they generate a constant air current that renews the ambiance.

Productivity Increase: BioAire evaporative farm coolers help improve working conditions, and therefore this helps increase productivity during the hot summer months.

Lower maintenance cost: BioAire evaporative air conditioners have a lower maintenance cost since it will only be necessary to clean the filters with pressurized water from time to time. This represents a maintenance saving of 80% compared to other systems.

Natural principle: The BioAire system cools the air through a 100% natural water evaporation process inspired by sea breeze.


PLC Automation: BioAire evaporative air conditioners can be automated using controllers and PLC to adequately manage the temperature and relative humidity of the warehouse.
Lower energy consumption: Reduces energy consumption by up to 80% compared to traditional refrigeration systems.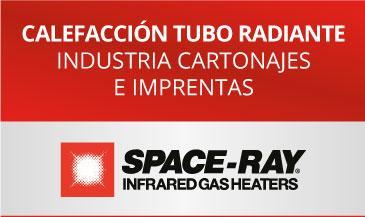 Doesn't dry out the environment: Unlike other forced air heating systems, Space-Ray efficient gas radiant tube heating does not dry out the environment.


Comfortable work areas: Increase the well-being of your workers by heating only the work areas of the warehouse, leaving the rest of the spaces such as warehouse or transit areas at room temperature.


Comfort Feeling: It directly heats the objects and not the air, this offers a feeling of comfort very close to that produced by the sun's rays.


Heat loss Decrease: It is possible to open doors and windows without suffering a loss of well-being in heated areas, so that constant air renewal is promoted during the winter.


Fast & Easy Maintenance: It is only necessary to occasionally use a pressurized water jet.


Heats immediately: The efficient Space-Ray gas radiant tube heating system offers an instant feeling of comfort as it directly heats the surface of objects. It is not necessary to turn on the heating first to heat the entire room.

Lower energy consumption: Reduces energy consumption by up to 60% compared to traditional forced air heating systems.

Some of our customers
[logo-carousel id=clientes]